Portal is a web-based service for online remote monitoring and control of HW group sensors and devices. You can monitor temperature, humidity, water leaks, digital inputs, voltage, current, energy consumption, and many more. You can also remotely control your technology using outputs.
We have created an article where everything we have ever produced concerning the use of SensDesk can be found. 
For more information visit https://www.hw-group.com/software/sensdesk
---
What is SensDesk.com?
SensDesk.com is a monitoring and Alerting system in the cloud by HW group for HW group monitoring devices and sensors.
Sensors and detectors
Monitoring

Temperature

Humidity

Voltage

CUrrent

Water/Flood

Door/Window

External power

Smoke

Vibration

Light

Gas

CO2

Water flow volume

Motion

Unit

°C, °F, °K

%RH

V

mA

 YES/NO

YES/NO

W

YES/NO

YES/NO

%

YES/NO

ppm

m3/s

YES/NO


 
---
We monitor your environment if you are...
• Manufacturer • Doing business in healthcare • Food provider • Accommodation provider • Dealing with heating and cooling • Facility          manager • System Integrator • IT administrator • Wine shop owner • Warehouse manager
Main benefits
✔ Fast alerting by E-mail, SMS, Phone-call, outputs...
✔ Data and documents for important decisions or for your partners (reports in PDF)
✔ 100 sensors on one screen
✔ Control of heaters, coolers and other devices automatically
✔ Monitor desired range of temperature and humidity
✔ Group (Bulk) operations, easy remote updates
✔ Ready for integration into 3rd party system (Open API)
     and more....
 
Check all of your sensors on one screen                                                                                              Check out the values from past days on all of your devices                                                                                   
---
Main features
SensDesk works with HW group monitoring devices and sensors.

All sensors in one screen

Graphs of historical data (2 years)

Central Device Management

Central alerts management (E-mail, SMS)

SensDesk will call you to your mobile phone (critical alerts)

 All values available over Open API, XML, SNMP (v1/v3)

PDF Reports (every week / month)

Device disconnected alarm in 30 min

Multigraph functionality (°C, %RH in one graph)

3 standard tariffs + custom pricing (ask for more)

3-month trial period for free

 Activation sirens based on sensor values

 Easy adopt SD/NB devices in 30 sec
---
What can I do with SensDesk?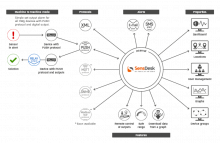 Remote monitornig
    You can monitor temperature, humidity, power consumption, battery voltage, intrusion, smoke, motion,
    water leaks and many more. Monitor and control your business and properties remotely.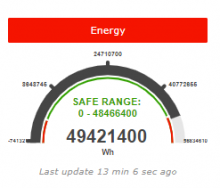 Event alerts and advanced alarming
     Create a safe range for your sensors and get alarmed over SMS, phone-calls or e-mail. All events are logged and
     reported. More safe ranges available.

     History and Log database


    Check the history of values and events two years ago and even more and export reports and graphs.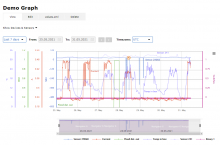 Reports, Graphs and Multigraphs
     Generate automatic reports and see all data in graphs with visible safe range limits. Recorded data can be as XLS,
     CSV, PDF, JPG, SVG and more.
                 
      Remote output control on diferent locations
      Any device with output can automatically respond to alarms from any sensor. Automated conditions and manual
      output control are available.

     Connect to 3rd party system (Open API)
      Send your SensDesk data to other applications and third party systems using XML, MQTT, SNMP or Modbus/TCP.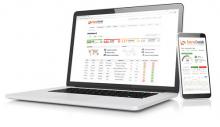 Have your own monitoring portal
       Ask for your own dedicated SensDesk IoT portal and run it as a virtual image on your server. Contact our sales team.
---
Sensdesk versions
Choose the Sensdesk version which is the most suitable for you:
• SensDesk.com – service – monitoring web-based service with suitable subscription plans for every requirement
• SensDesk PRO – license - for monitoring IoT projects
• SensDesk DC – license - on-premise, for our distributors who wants to provide SensDesk as a service to their customers
 

SensDesk.com

SensDesk PRO

SensDesk DC

Use

Smaller installations

Large projects

SensDesk on your server

Devices
Up to 25 /
custom up to 99

Unlimited

Unlimited

Teams

1

1

Unlimited

Users

Up to 3 / custom

Unlimited

Unlimited

Fees / annually

See subscription plans

Optional

YES

Automatic
Updates/upgrades

YES

Optional

YES

SMS using Twilio

YES (see subscription plans)

YES (account of the purchaser)

YES (account of the purchaser)

Own SMTP server

NO

YES 

YES

Runs on a private network

NO

NO
YES
Support

Standard

Premium
Premium
---